> Tank Storage Linerbag System
Linerbag® systems are productbags that contain all the liquid stored in a tank without holding any air or vapour, eliminating evaporation of the liquid and thus making tanks emission free. Linerbags separate the stored liquid from the steel tank wall, creating a second hull which protects the tank wall from corrosion and reducing the cleaning requirements. The Linerbag® system also allows for proper inspection of the bottom plates.
A floating roof tank can also be equipped with a Linerbag® system only, as illustrated below. A big advantage is that the Linerbag is relatively easy to remove for periodical inspections.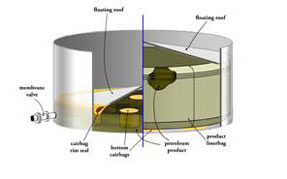 Possibility of re-usable bags
In case of multiple consecutive product storage in a tank, an empty product specific Linerbag, which is not in use, is left inside the tank, while another product specific Linerbag can be used at that same moment.
Why use a Linerbag® system:
To eliminate evaporation of the liquid;
To minimise cleaning of the tank;
To protect against corrosion of the tank floor and wall;
To avoid spills by enabling early leak detection;
To enable thermal isolation of the liquid.
Would you like to know what the Linerbag system can do for your company?
Click here to contact us